Case Study
The 3Mer Magazine
Print as a disruptor? Yes! For U.S. based 3M employees, this publication delivered feel-good stories and corporate updates through an employee lens. It served as a key channel to increase visibility to content and company happenings 3Mers may have missed.
Solution
In 2020, MSPC launched The 3Mer, a triannual publication tailored to U.S. manufacturing and supply chain employees, a core audience with limited access to email and digital channels at work. Our strategy: Focus on humanity at work. Tell real employee stories in a fresh design package with original photography. And meet the audience where they are, sending magazines directly to home mailboxes.
Content Features
Company happenings and highlights

Employee appreciation

Employee well-being and psychological safety

Innovation and leadership

Collaboration and teamwork

Philanthropy

Sustainability

3M history, milestones and growth
---
---
"These are exactly the types of stories we need to be telling."
3M Senior Vice President
Results
The magazine's authentic, high-quality content resonated, proven by a page-count increase and audience expansion in 2022. Our seventh and eighth editions were sent to all U.S. employees. MSPC editorial photography also became a cornerstone for the company's image library. Our images were repurposed broadly to show real 3Mers in action. Alongside our amazing clients, we navigated pandemic safety protocols to include original photo shoots in nearly every edition.
Case Study
U.S. Bank Social Media
When we were approached by U.S. Bank to develop strategy and create content for their social streams, we flipped their feeds from primarily financial to feel-good moments and relatable lifestyle content.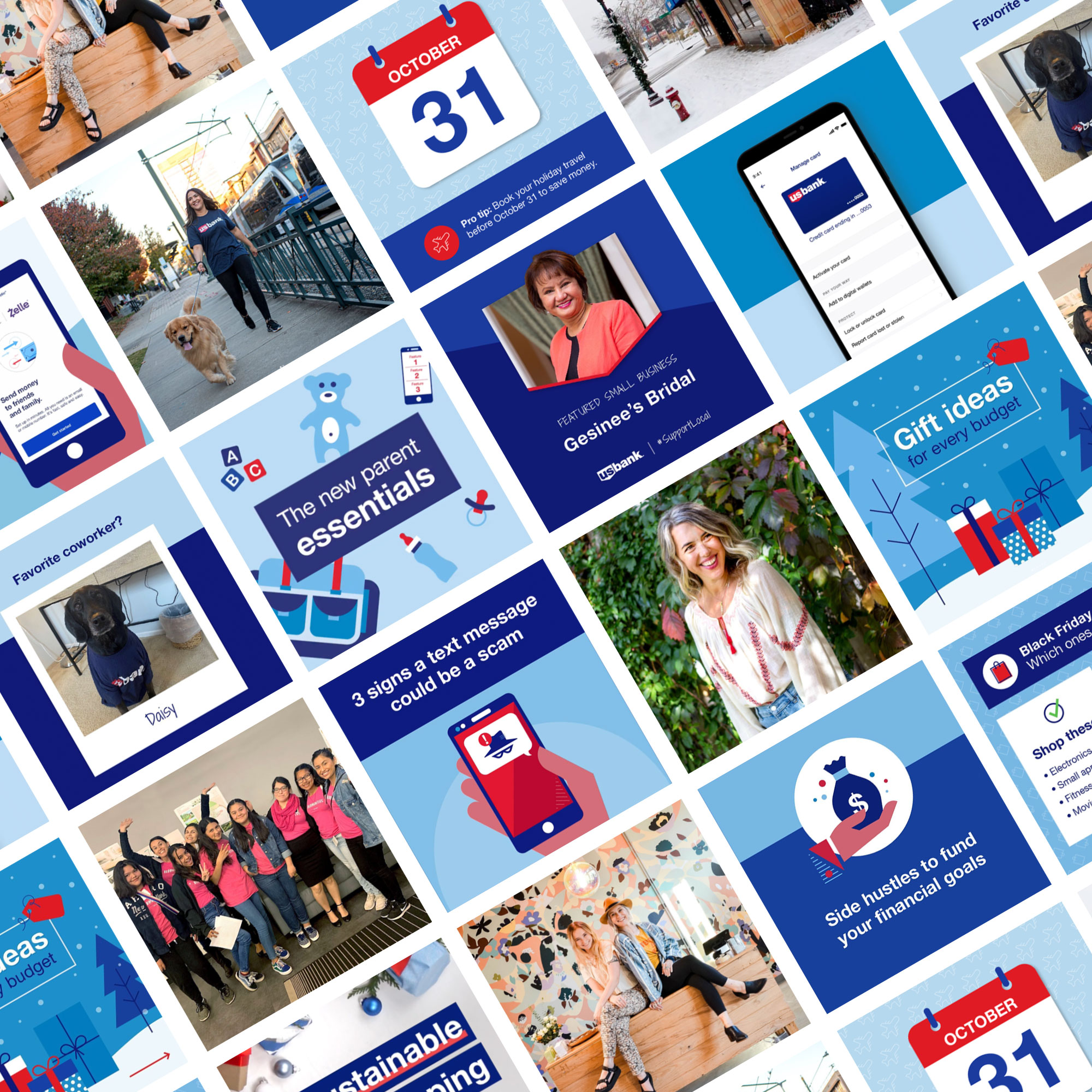 Solution
MSPC introduced lifestyle content to the U.S. Bank social feeds, speaking frankly about consumers' emotions regarding their money. We developed a brand voice that was straightforward, friendly and supportive. We  also developed a strong visual brand within U.S. Bank's social channels that both adheres to enterprise brand guidelines and speaks to the bright, engaging visuals that see top performance on most platforms. With this reimagining combined with a complete transformation of their Pinterest strategy, we saw an immediate boom in their views and engagement
Content Features
Personal finance

Business banking

Wealth management

Consumer success stories

Lifestyle content
600K monthly
Pinterest viewers
63.8%
YOY increase in Instagram engagement
300+
Social posts created annually
---
---
Results
Social media is a changing landscape, and the content we were producing had to keep up with those changes. When Instagram and Pinterest shifted their algorithms to prioritize video, we quickly adjusted our content calendars to include video formats for Reels and Idea Pins. We were able to do this quickly and cost-effectively by repurposing existing video and creating original content with in-house resources. 
Case Study
Miracle-Ear Video
It takes people an average of seven to 10 years to address their hearing loss. With a multi-use suite of videos for Miracle-Ear we show, through relatable scenes, encouraging scripts and powerful testimonials, just how easy—and life-changing—it is to take charge of your hearing.
Solution
We believe that videos need to work hard. With that in mind, we craft strategic plans for videos that touch on multiple aspects of Miracle-Ear's business and can be used across channels. The resulting work is wide-ranging: an evergreen video feature on the powerful work of the Miracle-Ear Foundation; animated explainer videos that help people understand their hearing care appointments; heartstring-tugging testimonial videos; lifestyle-focused product spotlights and more. No matter the topic, our video work is designed to make meaningful connections with the viewer.
Content Features
Animated videos

Testimonial videos

Promotional videos

Product videos

Scripting 

Art direction

Talent coordination
Results
We've created a suite of full-length and social-length videos that can be used in multiple ways: On site to promote product, explain value and bolster SEO; in social to support organic algorithm demands and engage followers; and in paid campaigns, to add dynamic visuals that drive action.
Case Study
Cub
In 2020, it became immediately clear that digital was going to play an even greater role in shopper's lives than it already was—especially in grocery. Cub needed a digital agency of record that could help them build the experiences, and content, vital to serving their communities, partners, and vendors.
Solutions
From the start, our approach has been to meet consumers wherever they are online with seamless experiences that translate to sales. We create digital content by tapping into programs that set Cub apart, partnering with vendors on consumer-first ideas that position their product as a solution, and shining light on the community organizations and charitable causes that Cub supports. Through this work we drive online orders for pickup and delivery, and build value in the My Cub Rewards shopper loyalty program.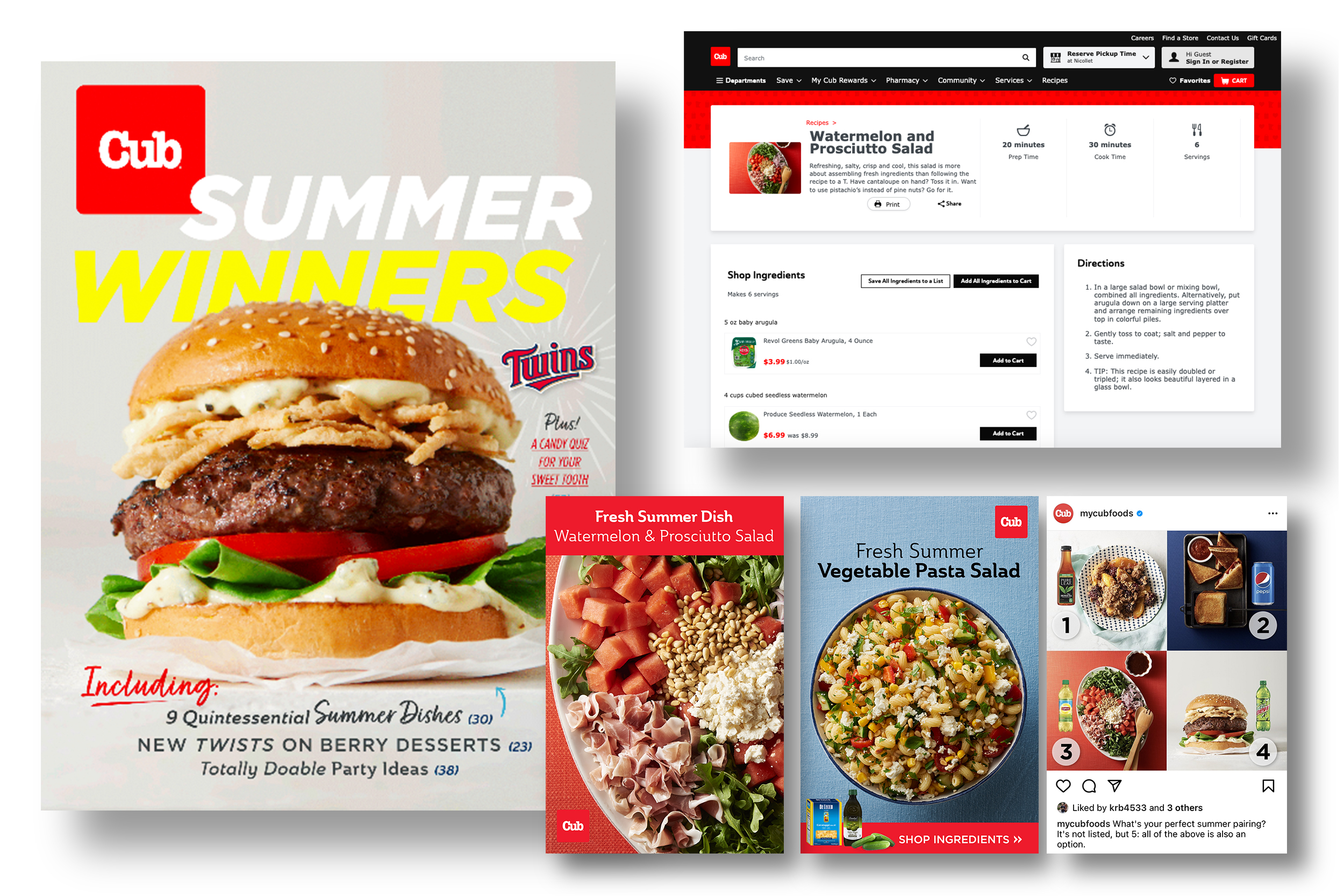 Content Features
Online ordering, pickup & delivery

Weekly deals, promotions, and coupons

Holiday and special occasion recipes, tips, and ideas

Custom CPG promotions for MN shoppers

Cub Liquor, Cub Wine & Spirits

Cub Pharmacy

Community involvement and partnerships

Member growth of My Cub Rewards

SEM, SEO and paid media
9 minutes
Average time shopper spends on Cub.com planning and ordering groceries each week
1 milllion+
Minnesota shoppers
4
Seasonal print magazines that fuel digital
---
---
" MSPC's amazing work has enabled me to increase CPG revenue by being able to offer both our customers and our partners valuable content that works hard in print and translates online. "
Cub Marketing Manager
Results
Digital engagement is at a record high with shoppers using our experiences to plan and buy from their phones every day.