Case Study
Vizient
When Vizient, a member-driven healthcare improvement company, sought to reimagine and reinvigorate its case study program, the organization turned to MSPC for assistance.
Solution
Leaning into the tenets of Vizient brand standards, MSPC designed a modular-focused case study template with multiple entry points and calls to action. As part of each member success story, MSPC interviews relevant subject matter experts from both Vizient and its member organization to help craft a capstone of the partnership. The result: A compelling narrative that focuses on the member and brings their wins with Vizient to life, accompanied by data-rich infographics and powerful testimonial quotes.
Content Features
Narrative case studies

Sales enablement tools

Infographics

Interviews with subject matter experts
---
---
17,000%
Increase in landing page visits
3+
Storytelling formats used
Results
Since switching to a journalist storytelling format, traffic to the Vizient case study content hub has increased 17,000%, and Vizient sales teams have been equipped with persuasive member success stories.
Case Study
Next Avenue
MSPC conducted a head-to-toe audit of Next Avenue's content, analyzing for audience growth and revenue-driving opportunities, as well as a restructuring of their consumer personas and development of a customer journey map. Reviewing social media, email newsletter, site experience and competitors, we provided actionable steps to increase site traffic and pave the way for future paid partnerships.
Solution
Through a complete analysis of Next Avenue's digital presence, we were able to pinpoint a variety of growth opportunities across a variety of touchpoints. To start, we conducted interviews with stakeholders, from the average subscriber to key decision makers. Through a virtual workshop with key players, we developed a customer journey to help our clients better understand roadblocks and opportunities.
Content Features
Competitive analysis

SEO opportunities and enhancements

Content opportunities

Social media opportunities

Email and acquisition opportunities

Site UX/UI, including accessibility

Diversity
---
---
Results
After a thorough scrub of site, social and email, what we delivered was a comprehensive document outlining methodology and findings as well as content, SEO, social, email, user experience, cross-promotional and revenue opportunities and the steps towards claiming them.
Case Study
Viking by Sons of Norway
For more than 30 years, MSPC has produced a monthly Nordic culture magazine, Viking, for the members of Sons of Norway to keep readers connected to their heritage. The organization wanted to appeal more to the children and grandchildren of its core membership.
Solution
MSPC led a magazine redesign to showcase Sons of Norway as a vibrant, cohesive organization and attract new, younger members. The refreshed design takes inspiration from modern Norwegian graphic design and architecture while incorporating aspects of history and nature. A striking new cover design, enhanced member content and more in-depth financial content brought Viking into a new era.
Content Features
Travel

History

Food

Genealogy

Art & culture

Modern Norway
---
---
Awards
35+ local, 3 national
30+
Years of partnership with MSPC
Results
Viking remains Sons of Norway's No. 1 member benefit.
Case Study
Renew by UnitedHealthcare
Filled with reliable lifestyle, health and wellness articles that are brought to life with bright, compelling designs, Renew magazine helps readers take charge of their healthcare and is one of the most engaging ways UnitedHealthcare serves its members.
Solution
After trying three publishers in five years, UHC came to MSPC with a challenge: Take Renew and transform it from a marketing communications piece into a compelling lifestyle publication that engages readers with editorial content and an elevated design, including newsstand-style covers with notable celebrities.
Content Features
Celebrity features

Wellness tips and advice

Healthy recipes

Home and lifestyle content

Online bonus content

Healthcare resources
---
---
"Creative. Impactful. Great people."
Shane Strudwick, Associate Director of Growth Marketing, Brand and Creative, Unitedhealth Group
11
Industry Awards, including Content Marketing Award's 2022 Best Healthcare Publication
"Proud of our partnership with MSPC in creating content that helps so many people live healthier, happier lives."
Shane Strudwick, Associate Director of Growth Marketing, Brand and Creative, Unitedhealth Group
Results
UnitedHealthcare uses Renew magazine to achieve three goals:
To be viewed by its members as a reliable resource for health and wellness information
Further develop a positive, personalized relationship with members
To let them know that UHC is checking in with them and cares about their health and well-being
Reader survey results and client feedback regularly show that people have developed a positive relationship with Renew magazine and they love the look and feel of the content and look forward to receiving issues in the mail.
Case Study
Filtrete™ Air Quality Solutions
From two social media pilot campaigns to longtime owned media content partner, MSPC helps educate consumers on the importance of indoor air quality, demonstrating Filtrete™ Brand's air quality expertise in strategic and unexpected ways.
Solution
Since 2014, MSPC has partnered with Filtrete™ Brand to lead owned content strategy for site and emails. From lifestyle Home Tips articles, monthly emails and Filtrete™ Smart App tips to new product copy and campaigns, digital ads, gifs, infographics and printable guides, our content is consumer-minded and data-driven. We apply an 'around the filter' approach to our editorial brainstorming: yes, it's important to sell products, but consumers need to understand how air filtration and purification works, why it matters and how individual actions impact indoor air quality. This strategy allows us to make filters fun and empower users to create better, cleaner home environments so they can proactively keep their families safer and healthier.
Content Features
Home Cleaning Tips and Checklists

Pets and Indoor Air Quality

Allergies and Symptom-Reducing Tips

New Home Air Quality

Construction and Remodeling

Entertaining and Cooking

Health and Wellness

New Baby

Weather, Climate and Natural Disasters

COVID-19
---
---
"MSPC has really helped 3M take our content to the next level. They dig in to research and analytics to inform their content—they're really listening to the consumer. And they're not just giving you the easy answer; they go the extra mile."
3M Marketing Communications Manager
9 year
Partnership with MSPC
Results
For many years, Filtrete™ Smart and 365 have been the top-performing email programs in the Consumer Business Group at 3M. MSPC content streams feed both of these monthly email reminder programs. Our email content drives back to lifestyle articles on Filtrete.com, with email placement being informed by brand segmentation, audience insights, seasonality and editorial prowess. Other modules include filter life status and product offers.
Case Study
3M Talent Acquisition Videos
Launching an employer brand within a large corporation is no easy feat, which is why 3M challenged MSPC to develop branding and marketing to inspire, attract and recruit top talent globally.
Solution
MSPC's employment branding for 3M introduced a niche technical center to potential candidates through foundational brand messaging and a series of videos featuring real 3Mers. We leaned into the power of lived experiences at multiple job levels, sharing unscripted, authentic viewpoints to emphasize the sense of purpose 3Mers feel at work. For filming, we visited employees in their remote and on-site workspaces, including a new international office. We also captured footage of employees' personal hobbies to show the breadth of 3Mers' personalities and highlight flexibility through the company's Work Your Way policy. Our videos incorporated nine employee perspectives on a variety of topics including technical leadership, impact, purpose, benefits and collaboration.
Content Features
Stakeholder interviews

Brand Anthem statement and general messaging

Brand Anthem video and supporting recruitment videos

Style guide for photography, brand colors, voice and tone

Landing page copy

Original photography and stock image selects

Logo lockup development
---
---
"I am super impressed! It flows and covers so many of the very important topics that we need."
3M client on Brand Anthem video
Case Study
The 3Mer Magazine
Print as a disruptor? Yes! For U.S. based 3M employees, this publication delivered feel-good stories and corporate updates through an employee lens. It served as a key channel to increase visibility to content and company happenings 3Mers may have missed.
Solution
In 2020, MSPC launched The 3Mer, a triannual publication tailored to U.S. manufacturing and supply chain employees, a core audience with limited access to email and digital channels at work. Our strategy: Focus on humanity at work. Tell real employee stories in a fresh design package with original photography. And meet the audience where they are, sending magazines directly to home mailboxes.
Content Features
Company happenings and highlights

Employee appreciation

Employee well-being and psychological safety

Innovation and leadership

Collaboration and teamwork

Philanthropy

Sustainability

3M history, milestones and growth
---
---
"These are exactly the types of stories we need to be telling."
3M Senior Vice President
Results
The magazine's authentic, high-quality content resonated, proven by a page-count increase and audience expansion in 2022. Our seventh and eighth editions were sent to all U.S. employees. MSPC editorial photography also became a cornerstone for the company's image library. Our images were repurposed broadly to show real 3Mers in action. Alongside our amazing clients, we navigated pandemic safety protocols to include original photo shoots in nearly every edition.
Case Study
3M Work Your Way
When 3M rolled out a new flexible working philosophy, Work Your Way, the Employee Communications team called upon MSPC to create multichannel assets to inform, educate and engage current and future employees.
Solution
For many, the pandemic forever changed how we work and launched myriad conversations about the future of work. As 3Mers and MSPCers experienced remote and hybrid work for the first time, we dug into our natural curiosities to explore the psychology behind where, when and how 3Mers like to work. Our written and video content featured employee success stories and perspectives. Designed how-to guides and infographics offered tips and advice, with topics ranging from virtual tools and ways to reduce meetings, to finding your optimal workspace when on-site.
Content Features
Strategic content calendar

Employee POV articles

How-to guides

Infographics

Videos

Microsoft Teams profile picture frames and location icons
---
---
"We have a dedicated core team of true talent. [MSPC] is the best, and have been valued partners and, in many cases, an extension of our team, since 2019."
3M Senior Communications Manager
Case Study
U.S. Bank Brand Publishing
For years MSPC has created and produced content for U.S. Bank, from long-form articles and infographics to persona-driven videos and interactive digital content. Our mindset when considering these audiences—whether it be their personal or small business banking clients—is that finance doesn't have to be dry. In fact, it's that personal element of finance that we know consumers connect with most.
Solution
Our content strategy and creation reframed financial information to connect with emotional and human elements. The psychology of personal finance is  a cornerstone of our content planning, and with data analysis and informed SEO insights, what results is engaging content that readers feel a connection to.
Content Features
Personal finance

Business banking

Wealth management

Military and veteran 

Student services

Tax resources

Minority segment topics

Family planning

Fraud prevention and security
---
---
Results
Our relationship with U.S. Bank has led to many projects, from a website audit consisting of over 300 URLs to the creation of an expansive tax resource hub in partnership with TurboTax®, as well as being brought on to manage their social media content.
Case Study
Miracle-Ear Content
Hearing aids can be a sensitive—even scary—topic for those facing hearing loss. Miracle-Ear sought out MSPC to create content that would emphasize human connection, ease fears, empower and encourage their customers to take the life-changing step toward better hearing.
Solution
Content that connects to people's lives is crucial when talking about hearing aids. Millions of Americans have unaddressed hearing loss because it's a tough reality to face, much less talk about. By creating relatable, user-first content that encourages and educates, we not only echo Miracle-Ear's industry-leading approach to engaged customer care, we help people feel more confident to take action to better their lives.
Content Areas
Lifestyle content

Hearing aid tips and education

Whole-life hearing health expertise

Customer testimonials

Facebook and Pinterest posts

Video

Paid media
---
---
Results
User-first content supports SEO efforts in driving people to the Miracle-Ear site and supports conversions that bring them into the stores. Data shows consistent year-over-year performance growth in search impressions (65MM) and organic visits (700M), plus an 85% increase in call appointments made via the website.
Case Study
Cub
In 2020, it became immediately clear that digital was going to play an even greater role in shopper's lives than it already was—especially in grocery. Cub needed a digital agency of record that could help them build the experiences, and content, vital to serving their communities, partners, and vendors.
Solutions
From the start, our approach has been to meet consumers wherever they are online with seamless experiences that translate to sales. We create digital content by tapping into programs that set Cub apart, partnering with vendors on consumer-first ideas that position their product as a solution, and shining light on the community organizations and charitable causes that Cub supports. Through this work we drive online orders for pickup and delivery, and build value in the My Cub Rewards shopper loyalty program.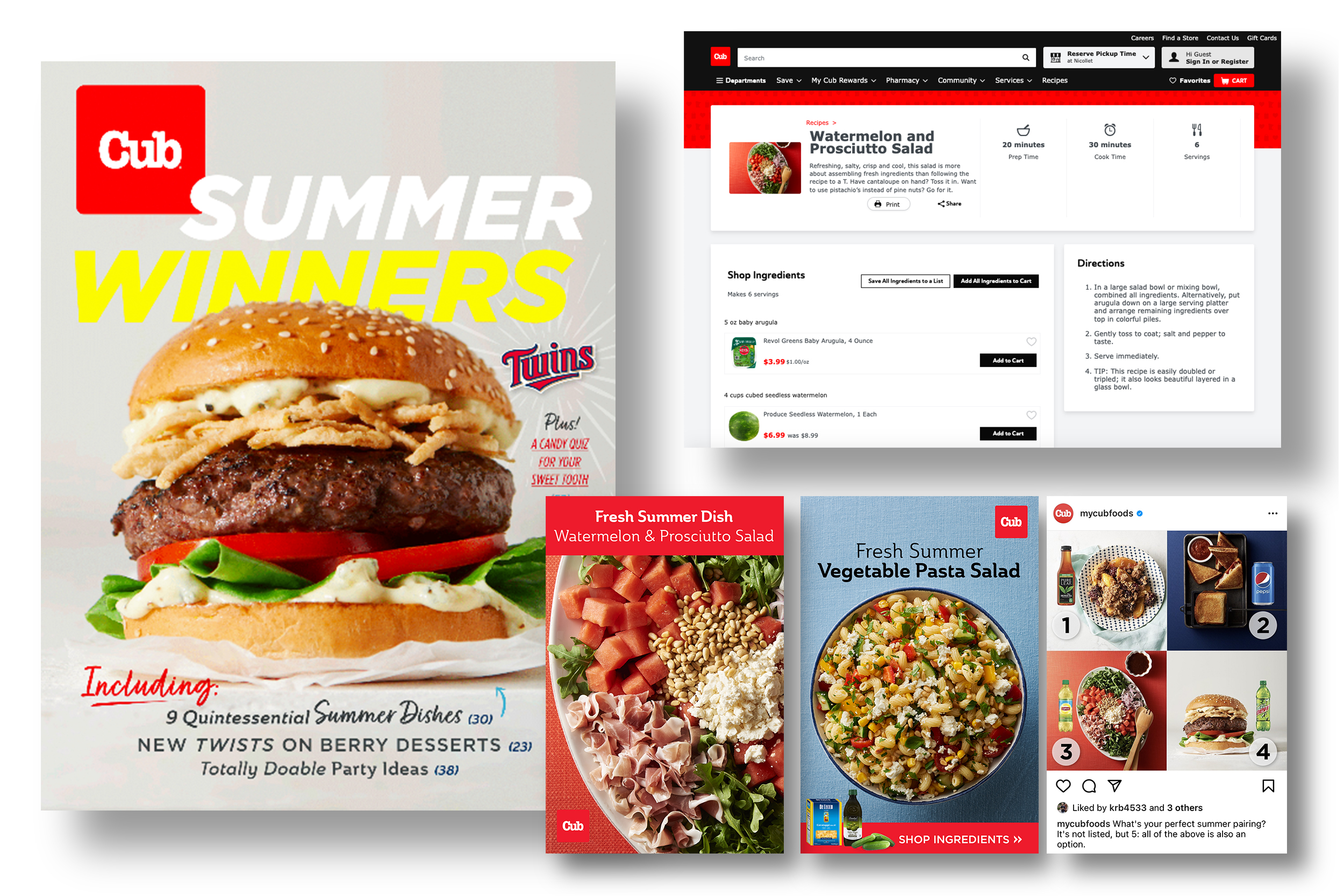 Content Features
Online ordering, pickup & delivery

Weekly deals, promotions, and coupons

Holiday and special occasion recipes, tips, and ideas

Custom CPG promotions for MN shoppers

Cub Liquor, Cub Wine & Spirits

Cub Pharmacy

Community involvement and partnerships

Member growth of My Cub Rewards

SEM, SEO and paid media
9 minutes
Average time shopper spends on Cub.com planning and ordering groceries each week
1 milllion+
Minnesota shoppers
4
Seasonal print magazines that fuel digital
---
---
" MSPC's amazing work has enabled me to increase CPG revenue by being able to offer both our customers and our partners valuable content that works hard in print and translates online. "
Cub Marketing Manager
Results
Digital engagement is at a record high with shoppers using our experiences to plan and buy from their phones every day.