Case Study
Next Avenue
MSPC conducted a head-to-toe audit of Next Avenue's content, analyzing for audience growth and revenue-driving opportunities, as well as a restructuring of their consumer personas and development of a customer journey map. Reviewing social media, email newsletter, site experience and competitors, we provided actionable steps to increase site traffic and pave the way for future paid partnerships.
Solution
Through a complete analysis of Next Avenue's digital presence, we were able to pinpoint a variety of growth opportunities across a variety of touchpoints. To start, we conducted interviews with stakeholders, from the average subscriber to key decision makers. Through a virtual workshop with key players, we developed a customer journey to help our clients better understand roadblocks and opportunities.
Content Features
Competitive analysis

SEO opportunities and enhancements

Content opportunities

Social media opportunities

Email and acquisition opportunities

Site UX/UI, including accessibility

Diversity
---
---
Results
After a thorough scrub of site, social and email, what we delivered was a comprehensive document outlining methodology and findings as well as content, SEO, social, email, user experience, cross-promotional and revenue opportunities and the steps towards claiming them.
Case Study
Filtrete™ Air Quality Solutions
From two social media pilot campaigns to longtime owned media content partner, MSPC helps educate consumers on the importance of indoor air quality, demonstrating Filtrete™ Brand's air quality expertise in strategic and unexpected ways.
Solution
Since 2014, MSPC has partnered with Filtrete™ Brand to lead owned content strategy for site and emails. From lifestyle Home Tips articles, monthly emails and Filtrete™ Smart App tips to new product copy and campaigns, digital ads, gifs, infographics and printable guides, our content is consumer-minded and data-driven. We apply an 'around the filter' approach to our editorial brainstorming: yes, it's important to sell products, but consumers need to understand how air filtration and purification works, why it matters and how individual actions impact indoor air quality. This strategy allows us to make filters fun and empower users to create better, cleaner home environments so they can proactively keep their families safer and healthier.
Content Features
Home Cleaning Tips and Checklists

Pets and Indoor Air Quality

Allergies and Symptom-Reducing Tips

New Home Air Quality

Construction and Remodeling

Entertaining and Cooking

Health and Wellness

New Baby

Weather, Climate and Natural Disasters

COVID-19
---
---
"MSPC has really helped 3M take our content to the next level. They dig in to research and analytics to inform their content—they're really listening to the consumer. And they're not just giving you the easy answer; they go the extra mile."
3M Marketing Communications Manager
9 year
Partnership with MSPC
Results
For many years, Filtrete™ Smart and 365 have been the top-performing email programs in the Consumer Business Group at 3M. MSPC content streams feed both of these monthly email reminder programs. Our email content drives back to lifestyle articles on Filtrete.com, with email placement being informed by brand segmentation, audience insights, seasonality and editorial prowess. Other modules include filter life status and product offers.
Case Study
U.S. Bank Social Media
When we were approached by U.S. Bank to develop strategy and create content for their social streams, we flipped their feeds from primarily financial to feel-good moments and relatable lifestyle content.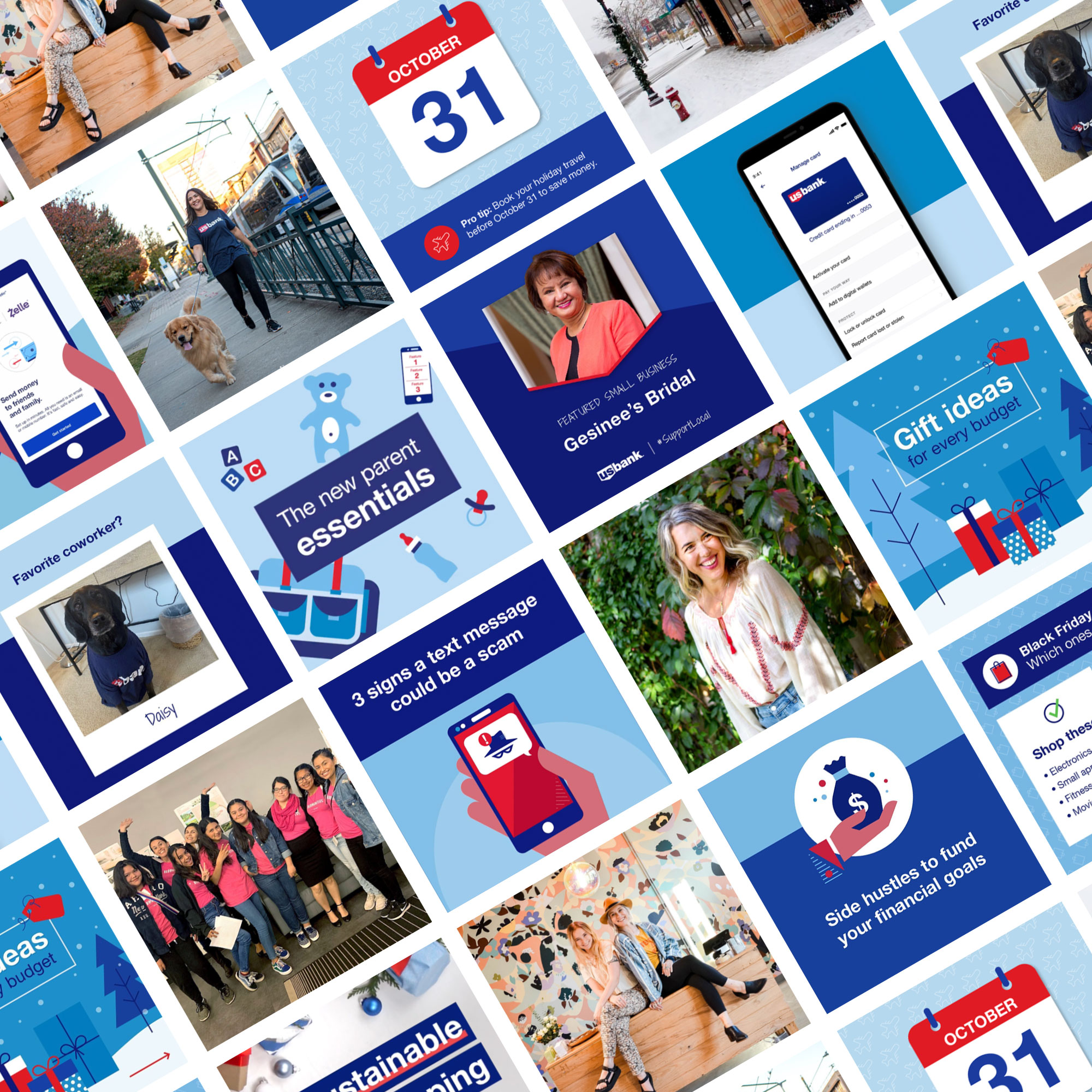 Solution
MSPC introduced lifestyle content to the U.S. Bank social feeds, speaking frankly about consumers' emotions regarding their money. We developed a brand voice that was straightforward, friendly and supportive. We  also developed a strong visual brand within U.S. Bank's social channels that both adheres to enterprise brand guidelines and speaks to the bright, engaging visuals that see top performance on most platforms. With this reimagining combined with a complete transformation of their Pinterest strategy, we saw an immediate boom in their views and engagement
Content Features
Personal finance

Business banking

Wealth management

Consumer success stories

Lifestyle content
600K monthly
Pinterest viewers
63.8%
YOY increase in Instagram engagement
300+
Social posts created annually
---
---
Results
Social media is a changing landscape, and the content we were producing had to keep up with those changes. When Instagram and Pinterest shifted their algorithms to prioritize video, we quickly adjusted our content calendars to include video formats for Reels and Idea Pins. We were able to do this quickly and cost-effectively by repurposing existing video and creating original content with in-house resources. 
Case Study
Cub
In 2020, it became immediately clear that digital was going to play an even greater role in shopper's lives than it already was—especially in grocery. Cub needed a digital agency of record that could help them build the experiences, and content, vital to serving their communities, partners, and vendors.
Solutions
From the start, our approach has been to meet consumers wherever they are online with seamless experiences that translate to sales. We create digital content by tapping into programs that set Cub apart, partnering with vendors on consumer-first ideas that position their product as a solution, and shining light on the community organizations and charitable causes that Cub supports. Through this work we drive online orders for pickup and delivery, and build value in the My Cub Rewards shopper loyalty program.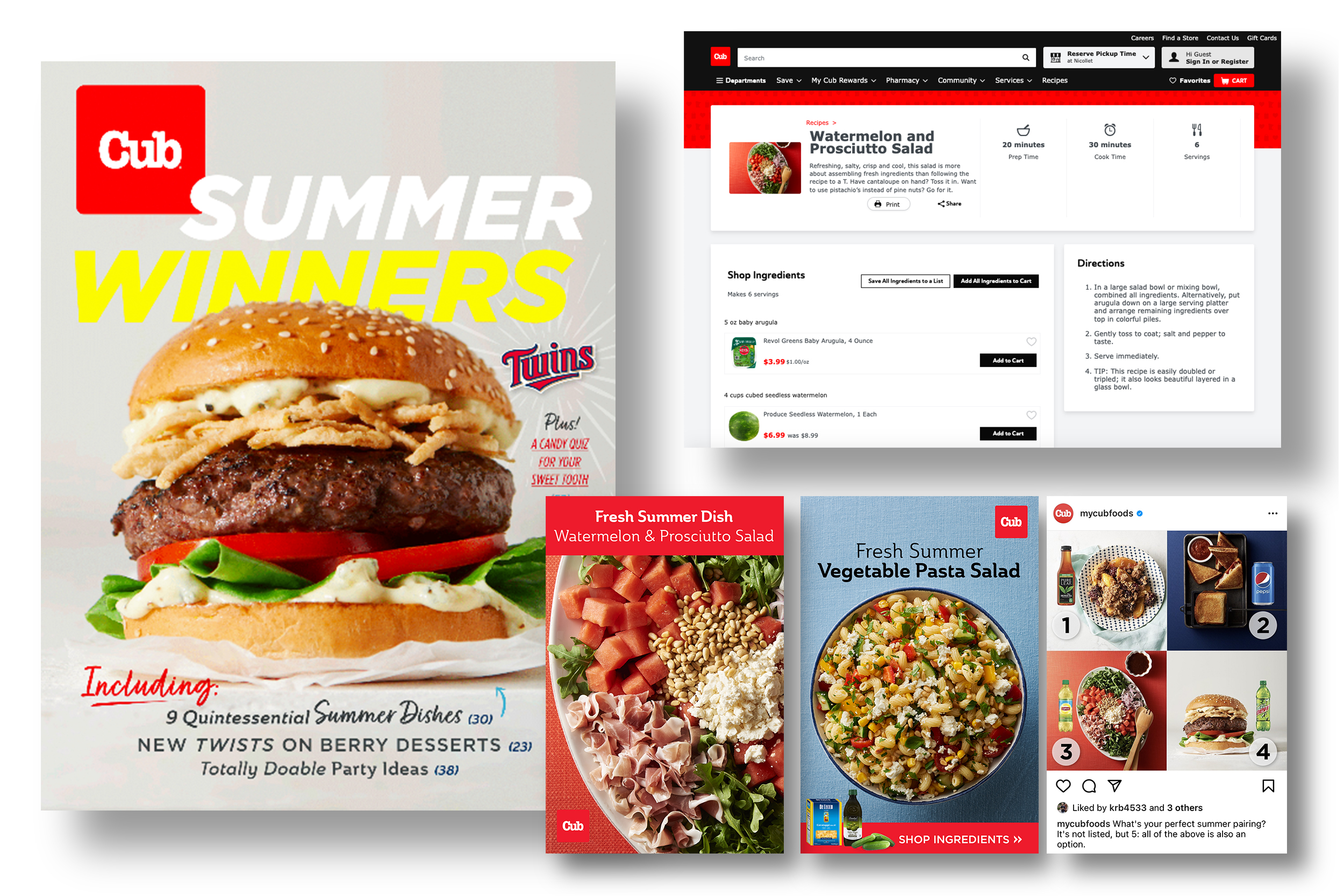 Content Features
Online ordering, pickup & delivery

Weekly deals, promotions, and coupons

Holiday and special occasion recipes, tips, and ideas

Custom CPG promotions for MN shoppers

Cub Liquor, Cub Wine & Spirits

Cub Pharmacy

Community involvement and partnerships

Member growth of My Cub Rewards

SEM, SEO and paid media
9 minutes
Average time shopper spends on Cub.com planning and ordering groceries each week
1 milllion+
Minnesota shoppers
4
Seasonal print magazines that fuel digital
---
---
" MSPC's amazing work has enabled me to increase CPG revenue by being able to offer both our customers and our partners valuable content that works hard in print and translates online. "
Cub Marketing Manager
Results
Digital engagement is at a record high with shoppers using our experiences to plan and buy from their phones every day.