Case Study
Miracle-Ear Paid Media
The hearing aid market is competitive and incredibly dynamic—especially as wearable tech continues to proliferate. Staying competitive demands both paid and organic initiatives, and we've helped Miracle-Ear expand the scope of their paid media efforts into new channels while bolstering proven tactics.
Solution
Knowing where your audience is already showing up is half the battle—the other half is finding out where else they could be, and will be in the future. We've taken an approach that keeps a strong presence on channels where Miracle-Ear consistently sees success, and expanded to other channels for greater exposure and opportunities for conversion.
Content Features
Facebook paid campaigns

Pinterest paid campaigns

YouTube pre-roll campaigns
7MM+
Impressions across channels
12,570
Average clicks to site per month
---
---
Results
Strategically opening up new channels for paid media campaigns resulted in growing numbers of impressions, clicks and conversions, introducing more people to the Miracle-Ear brand and convincing them to convert through compelling content.
Case Study
Cub
In 2020, it became immediately clear that digital was going to play an even greater role in shopper's lives than it already was—especially in grocery. Cub needed a digital agency of record that could help them build the experiences, and content, vital to serving their communities, partners, and vendors.
Solutions
From the start, our approach has been to meet consumers wherever they are online with seamless experiences that translate to sales. We create digital content by tapping into programs that set Cub apart, partnering with vendors on consumer-first ideas that position their product as a solution, and shining light on the community organizations and charitable causes that Cub supports. Through this work we drive online orders for pickup and delivery, and build value in the My Cub Rewards shopper loyalty program.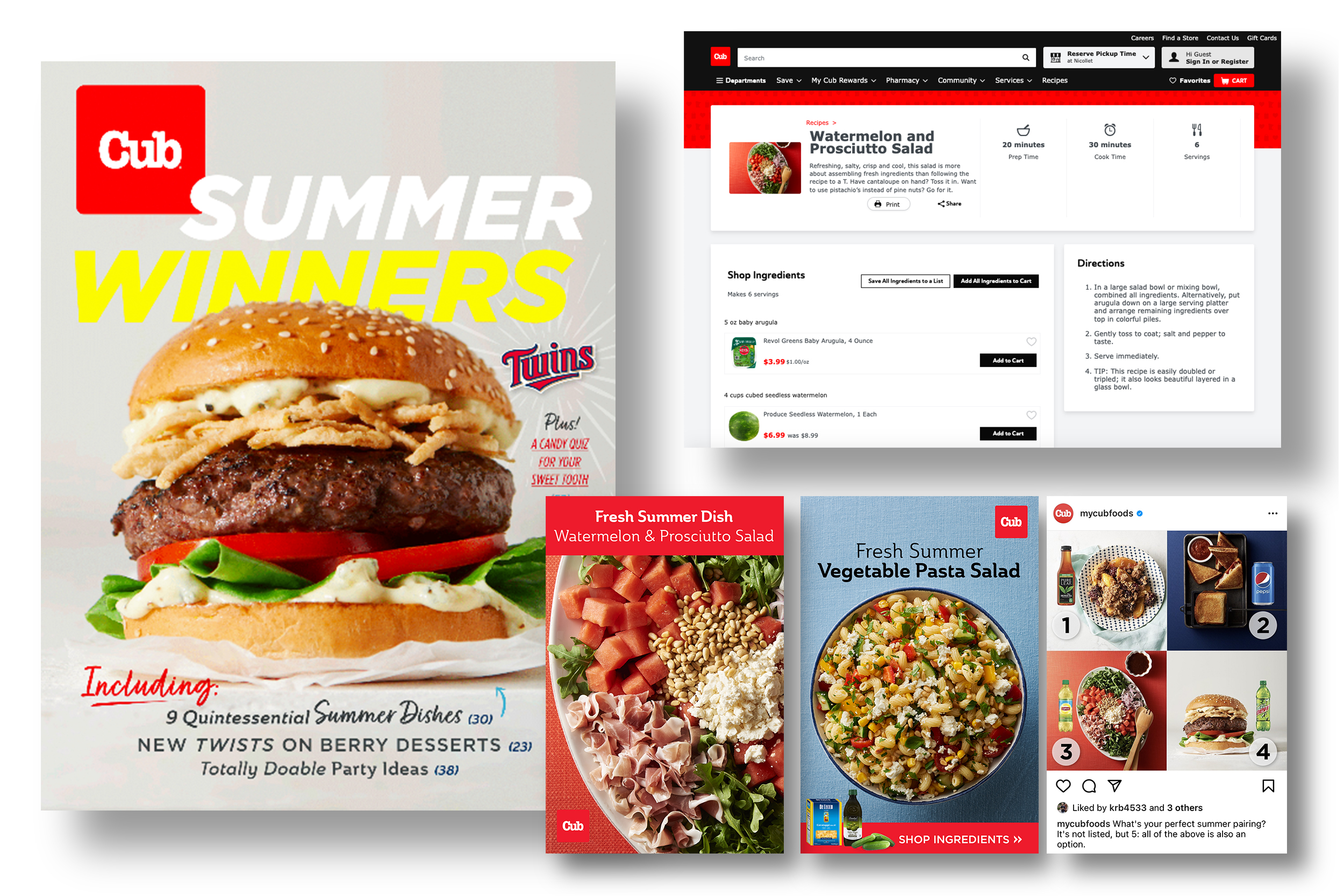 Content Features
Online ordering, pickup & delivery

Weekly deals, promotions, and coupons

Holiday and special occasion recipes, tips, and ideas

Custom CPG promotions for MN shoppers

Cub Liquor, Cub Wine & Spirits

Cub Pharmacy

Community involvement and partnerships

Member growth of My Cub Rewards

SEM, SEO and paid media
9 minutes
Average time shopper spends on Cub.com planning and ordering groceries each week
1 milllion+
Minnesota shoppers
4
Seasonal print magazines that fuel digital
---
---
" MSPC's amazing work has enabled me to increase CPG revenue by being able to offer both our customers and our partners valuable content that works hard in print and translates online. "
Cub Marketing Manager
Results
Digital engagement is at a record high with shoppers using our experiences to plan and buy from their phones every day.